Leadership Programming
Tuesday, April 12, 2022 @ 12:10–1:10 p.m.
Please join us for a lunchtime talk with Roberta ("Robbie") Kaplan, the founding partner of Kaplan Hecker & Fink LLP and Lecturer in Law at Columbia Law School. In July 2017, Robbie left Paul, Weiss, Rifkind, Wharton & Garrison LLP after 25 years to found Kaplan Hecker & Fink, seeking to build what she calls a "new fashioned, old fashioned" law firm that combines a cutting-edge civil and criminal litigation practice with a groundbreaking commitment to using the courts to serve the public interest. 
In one of their first cases as a firm, Kaplan Hecker sued the neo-Nazis and white supremacists who organized the racial- and religious-based violence that took place in Charlottesville, Virginia, in August 2017. The lawsuit took what has been described as an "audacious" legal approach, utilizing among other legal strategies an 1871 law that was intended to stop the mob-based violence of the Ku Klux Klan. Kaplan Hecker obtained a historic trial verdict and $26 million award to the plaintiffs, ensuring that the white nationalists would be held accountable for their actions.
Robbie will talk about her experience leaving Paul, Weiss in a tumultuous political climate to found a new firm, the innovation behind the funding and litigation of the Charlottesville case, and what it took to lead herself, others, and change through this transformative process.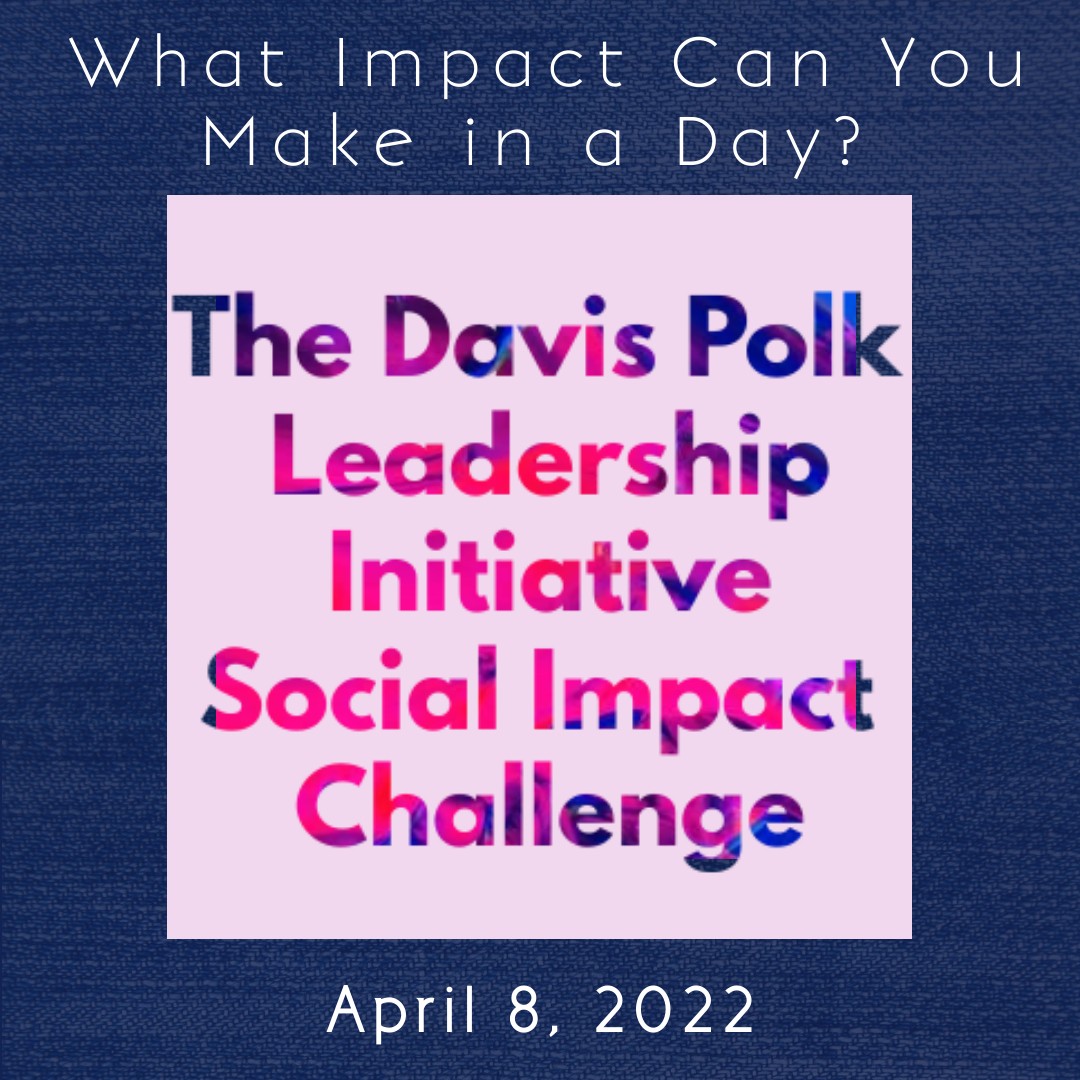 Friday, April 8, 2022 @ 9:00 a.m.–5:00 p.m. in JG 106
The Davis Polk Leadership Initiative Social Impact Challenge is a one-day event aimed at developing leadership skills and promoting innovation by CLS students. The event will open with a keynote speech by Hitendra Wadhwa, Professor of Professional Practice at Columbia Business School. The Center for Public Research and Leadership (CPRL) will also give a training on everyday leadership and tools for project management. 
During the course of the day, students will divide into "action incubators" in order to develop a solution to an issue at the Law School within a budget of $1,000. The groups will then present their proposed solutions to a panel of judges, including Dean Gillian Lester, Dean of the Faculty of Law and Lucy G. Moses Professor of Law; James S. Liebman, Simon H. Rifkind Professor of Law and Founder of CPRL; and David B. Toscano, Litigation Counsel at Davis Polk & Wardwell LLP. The winning group will receive the funds to implement their solution within the Law School in the following week.
---
February 26, 2021, 8:00am - 5:00pm PT
View program and recordings here. 
---
From Santa Clara: "Santa Clara University School of Law and its Santa Clara Law Review are providing a national forum for the discussion of leadership in the legal profession during these times of great struggle, change and volatility. These unprecedented times require effective and ethical leadership. The Symposium will bring together some leading experts on leadership by lawyers spanning relevant areas such as national health, politics and government, crisis management, law practice, and legal education."
January 28, 2021, 12:00pm ET
---
J.R. Martinez is an Army veteran, burn survivor, actor, motivational speaker, New York Times best-selling author, and Dancing with the Stars season 13 winner.
Please join the CLS Davis Polk Leadership Initiative and Alec Schwartz '22 for a conversation with J.R. on perseverance, resilience, and building civil-military understanding.
---
February 13, 2019 @ 4:20 PM - 6:10 PM
Jerome Greene Hall, Room 103
---
Join Bruce Sewell, former GC of Apple, and Professor Michael Gerrard for this interactive workshop to learn how the best leaders delegate and say "no" for purposes of self-management, self-care, management of others, and budgeting.
Refreshments will be served.
Presented as part of the Davis Polk Leadership Initiative Workshop Series. 
---
April 10, 2019 @ 4:20pm to 6:00pm
Jerome Greene Hall, Room 101
---
A signature skill of an exceptional leader is the ability to communicate effectively across social, economic, cultural and other boundaries. While in law school you will need to communicate with various audiences. You will interview for jobs; ask faculty to supervise papers, review exams, or write recommendations; navigate administrative tasks; participate in moot courts; work with real employers and clients in clinics, externships, pro bono projects, or summer internships; persuade peers to elect you to leadership positions; mentor and tutor other students, and more. The goal of this workshop is to teach you the importance of knowing your audience in crafting persuasive, impactful communications that will allow you to effectively lead others. 
Prof. Eric Talley, the Isidor and Seville Sulzbacher Professor of Law and Co-Director, Millstein Center for Global Markets and Corporate Ownership, and Anne Williams-Isom '91, CEO of the Harlem Children's Zone, will lead the workshop.
Refreshments will be served.
Presented as part of the Davis Polk Leadership Initiative Workshop Series.
---
Wednesday, April 24th, 2019 @ 4:20pm to 6:10pm
Jerome Greene Hall, Room 103
---
Learn what networking really means and how to network for personal advancement and business development. Dean Gillian Lester, Rachel Barnett, General Counsel of Travelzoo, Inc., and Louise Firestone, Senior Vice President for Legal Affairs and General Counsel for LVMH Moët Hennessy Louis Vuitton Inc., will lead this exciting, interactive workshop.
Refreshments will be served.
Presented as part of the Davis Polk Leadership Initiative Workshop Series.